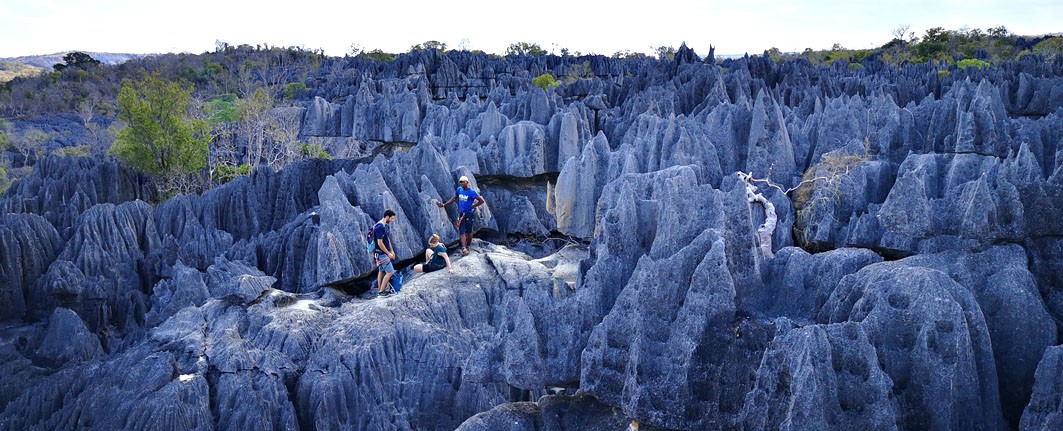 WHERE ?
Located in the western part of madagascar, about 200 km from Morondava, the protected area of ?? Bemaraha covers more than 150 000 Ha. It is home to the famous Tsingy de Bemaraha, one of the most spectacular landscapes of madagascar, and even of the world.
THE FAMOUS TSINGY DE BEMARAHA
Madagascar – The famous Tsingy de Bemaraha National Park is the first tourist attraction that makes the western destination of madagascar a popular destination for tourists. Indeed, the Tsingy are a group of limestone rocks whose formation began several million years ago when the sea still covered the region. Thus, corals and shells have stacked and welded together to form thick layers which have subsequently raised. And in the open air, the limestone cracked to give rise to diaclases and canyons. Rainwater that has an acid characteristic has also contributed to erosion by shaping tapered slats and deep tunnels with concretions on the surface. It is a true limestone cathedral characterizing one of the most spectacular natural landscapes of the Great Island and even of the world, hence its inscription to the World Natural Heritage and National Cultural Heritage of UNESCO.
WILDLIFE AT TSINGY DE BEMARAHA
Tsingy de Bemaraha are strongly regarded as a place of endemism because of their richness in plant species as well as in animal species, where scientists have recorded a high level of endemism: around 80-90%. The protected area of ??Bemaraha is a true refuge for rare and endemic animal species. There are 17 rare species of reptiles, including the very small chameleon scientifically called the Brookesia perarmata, a species of Rodentes, Nesomys lambertoni, found only in the park. There are also 11 species of lemurs, 6 species of birds and 2 species of local endemic amphibians. And on the flora side, the park abounds with more than 600 species of plants, but the baobabs, aloes and flamboyants remain the first stars.
SOME TIPS TO VISIT THE TSINGY
For a visit to the park of Bemaraha, it is strongly advised to wear walking shoes or sneakers, light clothes, a hat, a sunscreen, a mosquito repellent and especially a reserve of water of about two liters Per person for hiking. Do not forget to bring a flashlight to better observe the caves. As far as accommodation is concerned, you can camp on site or stay in a hotel in Morondava. As information for campers, it is imperative to obtain food and fuel in Morondava. In the vicinity of the park, there will be only freshwater fish and pork and zebu meat. Ready for an adventure in the Tsingy or another destination ? Get inspired by various travel tips and ideas posted on the net and go exploring the world, Have a nice trip. In madagascar, Tsingy de bemaraha is one of the best tourist site and the most visited place