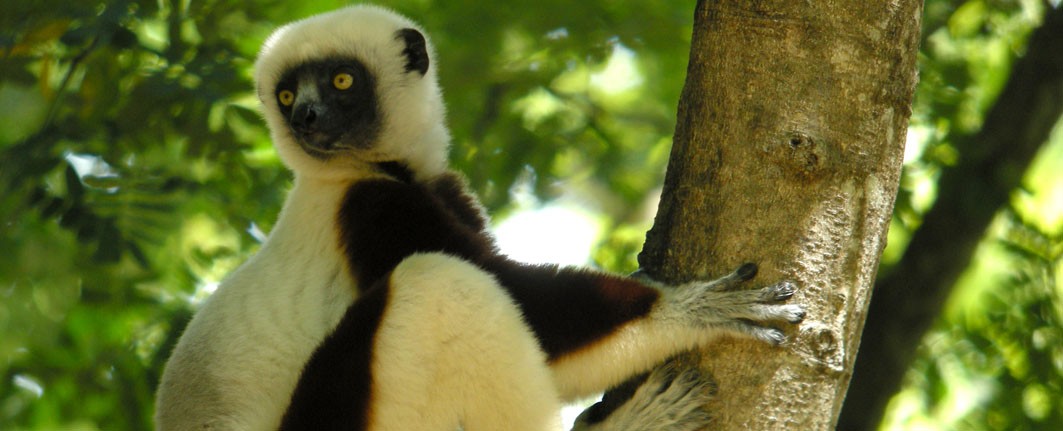 How to get there
When you travel to madagascar, do not forget to visit Ankarafantsika National Park. Ankarafantsika is located on the National Road 4 (RN4) connecting Antananarivo and Mahajanga.
Duration: 8 hours.
Distance: 450 km from Antananarivo and 115 km south of Mahajanga.
Historical
The term ankarafantsika is a transformation of the name which means too and evokes the time when these forests inspired terror and mystery, due to the presence of Ravelobe, a patriot who had become a highway robber, who attacked travelers. Also designates a cunning and frightening man.
Specificity of the Park
Ankarafantsika includes a unique floristic formation on a sandy mass in which faunistic species with a very high endemicity rate and not present in other protected areas are found.
Ankarafantsika contributes to the representativeness of biodiversity in the network of parks and reserves of Madagascar.
The Park also presents varied and contrasting landscapes, such as different types of forests, savanna, lakes or Ankarokaroka. The result of a massive erosion.
The flores

The Ankarafantsika National Park is home to a rich and diverse flora. Eight hundred and twenty three (823) species were inventoried. The endemicity rate is high, ranging from 82% for herbaceous plants to 92% for woody plants and deserves special attention in terms of conservation.

The fauna
The diversity of lemurs underscores the importance of the Ankarafantsika National Park for the conservation of the biodiversity of Madagascar. Eight (8) species of lemurs were observed. The region of Ankarafantsika is known to house more than one hundred and twenty (129) species of birds, of which seventy-five (75) are endemic.

The landscapes
The Park presents varied and contrasting landscapes such as the different types of forests, savannas or lakes that make up the habitats of different species.

HT AGENCY TOURS
Luxury Madagascar with the best luxury African safari tours packages. Discover your next perfect destination with HT Agency Tours