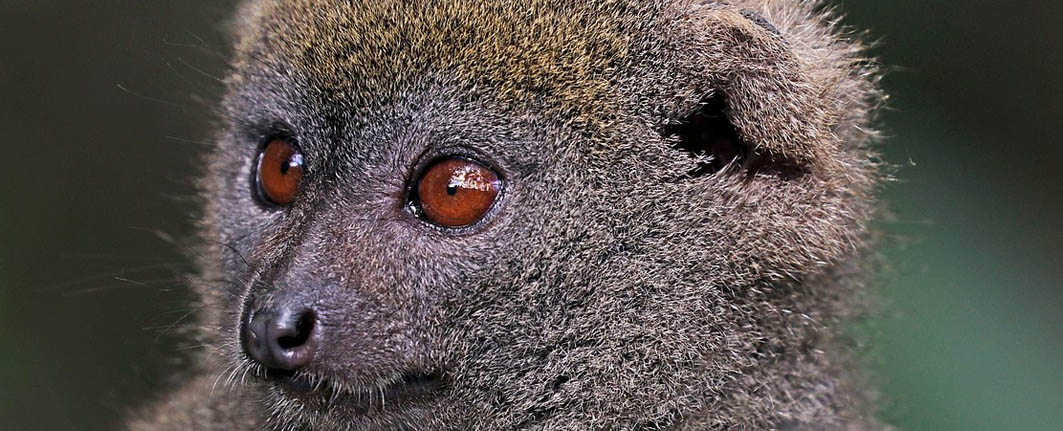 DISTRIBUTION: Found in rainforest with bamboo throughout the central and southern parts of eastern Madagascar. Also found in dry forest in the west, although rarely seen by visitors there.
ID: Reminiscent of a sportive lemur, but active during the day, and their ears and eyes are much smaller. The very similar Northern Bamboo Lemur Hapalemur occidentalis (not illustrated) is found in the north and northeast, and is occasionally seen in Marojejy and Masoala NPs.
VOICE: Not very vocal. Sometimes gives a quiet grunting similar to that given by brown lemurs, and a plaintive squeal.
BEHAVIOUR: Sometimes feeds sluggishly for long periods, but highly active at other times, making impressive leaps. Usually alone or in small groups. Feeds on bamboo and other plant material. One infant is born at the beginning of the wet season.
WHERE TO SEE: Easiest to see in Andasibe-Mantadia NP, with tame individuals often along the main trail in the Analamazaotra section of the park. Also fairly common in Ranomafana NP. Occasionally seen in Tsingy de Bemaraha NP.
HT AGENCY TOURS
Luxury Madagascar with the best luxury African safari tours packages. Discover your next perfect destination with HT Agency Tours