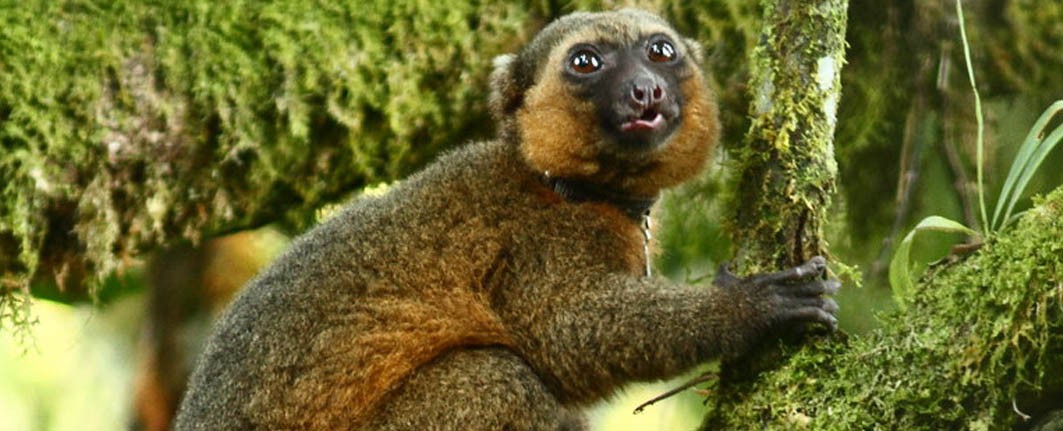 Golden Bamboo Lemur has an amazing ability to process the potent poison cyanide, which is found in large quantities in its favourite food: the young shoots and leaves of Giant Bamboo. The race around Andasibe (right) is rich brown in colour; the race in the west and southeast (below) is paler and greyer.
DISTRIBUTION: Very small range in the rainforest of the southeast.
ID: The golden colour of this species distinguishes it from both the smaller Grey Bamboo Lemur and the larger Greater Bamboo Lemur.
VOICE: Vocal. Gives a quiet grunting similar to that of brown lemurs. The territorial call is a complicated clucking and whistling.
BEHAVIOUR: Usually seen in small groups, feeding placidly within a thick stand of Giant Bamboo Cathariostachys madagascariensis. One infant is born in November or December.
WHERE TO SEE: Ranomafana NP, which exists in large part due to the discovery of this species there in 1985. Local guides are skilled at tracking this flagship species.
HT AGENCY TOURS
Luxury Madagascar with the best luxury African safari tours packages. Discover your next perfect destination with HT Agency Tours