Southern to the highland | Available all year
Proceed Booking
Don't have an account? Create one.
When you book with an account, you will be able to track your payment status, track the confirmation and you can also rate the tour after you finished the tour.
Sign Up
Or Continue As Guest
Continue As Guest
Adding item to wishlist requires an account
Don't have an account? Create one.
When you book with an account, you will be able to track your payment status, track the confirmation and you can also rate the tour after you finished the tour.
Sign Up
DAY 1: ARRIVAL TIME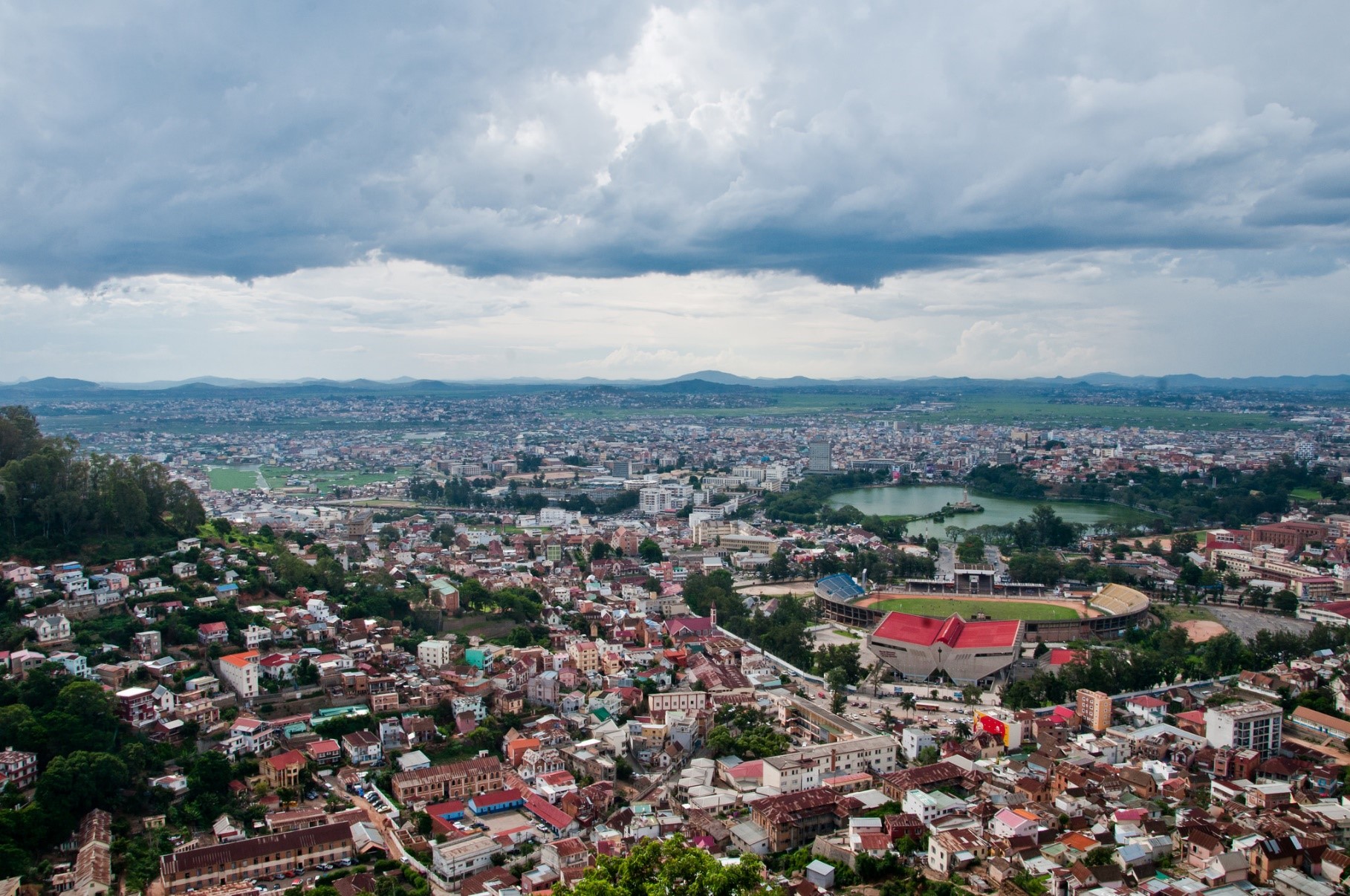 Arrival at Ivato International Airport (Arrival 1 :40PM). You will be welcomed by HT  Agency  Tours  Staff.  Once you  have  cleared  customs  formalities,  our  Guide  will  smooth  through  the  rest  of  the  arrivals  process  – currency exchange, setting up your phone with a new SIM  card,  and  anything  else  you  need.  We  will provide 1 SIM cards  with  Data  +  National Call +  5mn  International  call during your stay in Madagascar. It will make our contact easier. Check in at the hotel.
LOCATION : ANTANANARIVO
ACCOMMODATION : MAISON GALLIENI
OPTION : BREAKFAST AND DINNER
DRIVE : 30MN
DAY 2 – ANTANANARIVO TO TULEAR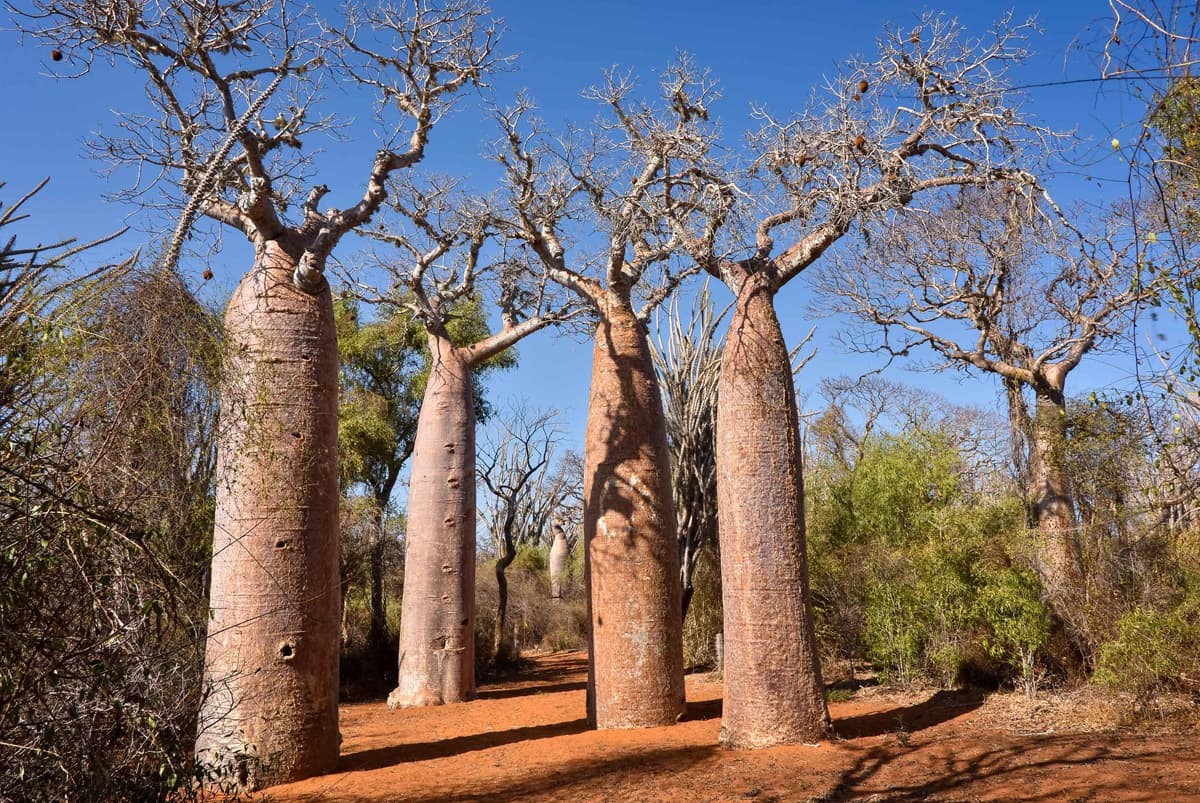 In the morning, after breakfast, you will be picked up at the place where you stay then transfer directly to the Airport for flight to the south to reach Toliara. A private car with Driver and National Guide with English Speaking will be waiting for you at the Toliara Airport. Drive directly to your hotel in the small fishermen village of Vezo located at 25 km after Tuléar "Ifaty". Check-in at your hotel and relaxe on the beach before starting your first visit at the Reniala Reserve, a typical dry forest of the south, meeting the diversity of fauna and flora of the region, including the varieties of Baobab (Baobab Forest).
LOCATION : TULEAR
ACCOMMODATION : MORINGA
OPTION : BREAKFAST AND DINNER
DRIVE : 1H30MN FLIGHT + 20MN DRIVE
DAY3 – TULEAR TO ISALO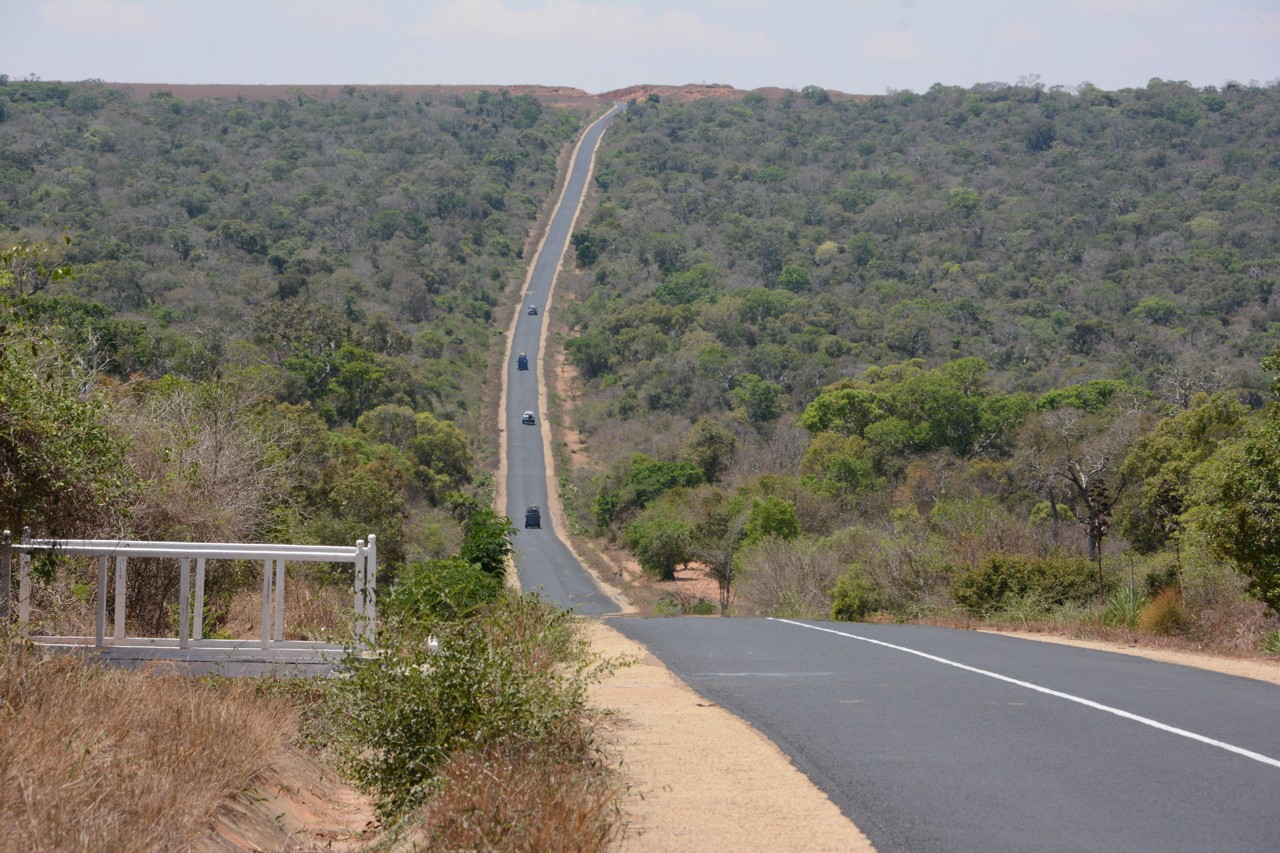 After breakfast, back to the road for the North to reach the city of Ranohira, to meet Isalo National Park with on stop for a little detour at the arboretum of Antsokay for discovering the endemic and threatened plants of the South Area. One another stop, 11 km after Sakaraha and 147km after Toliara, visit in the Zombitse National Park. This park is reputed with their endemic fauna species, with about 60 species of birds including 47% endemic to Madagascar, 24% endemic to the Malagasy region and a local endemic species – the Phylastrephus apperti, endemic Lacertilians and vulnerable species. Ispidina madagascariensis was recorded in the Zombitse forest. It is the only Protected Area with Phelsuma standingi and Phyllastrephus apperti. There are also 08 species of lemurs, some of which are almost endangered, such as the Phaner furcifer pallescens. After the visit, Continu to the Isalo. During the journey, you could often stop to enjoy the various changes of the mountain and landscape. On arrival, Check-in at your hotel. This afternoon, a horse ride is organized to discover the authenticity and the beauty of the area ; the visit will take about one hour.
LOCATION : ISALO
ACCOMMODATION : ROCK LODGE
OPTION : BREAKFAST AND DINNER
DRIVE : ABOUT 5H
DAY4- ISALO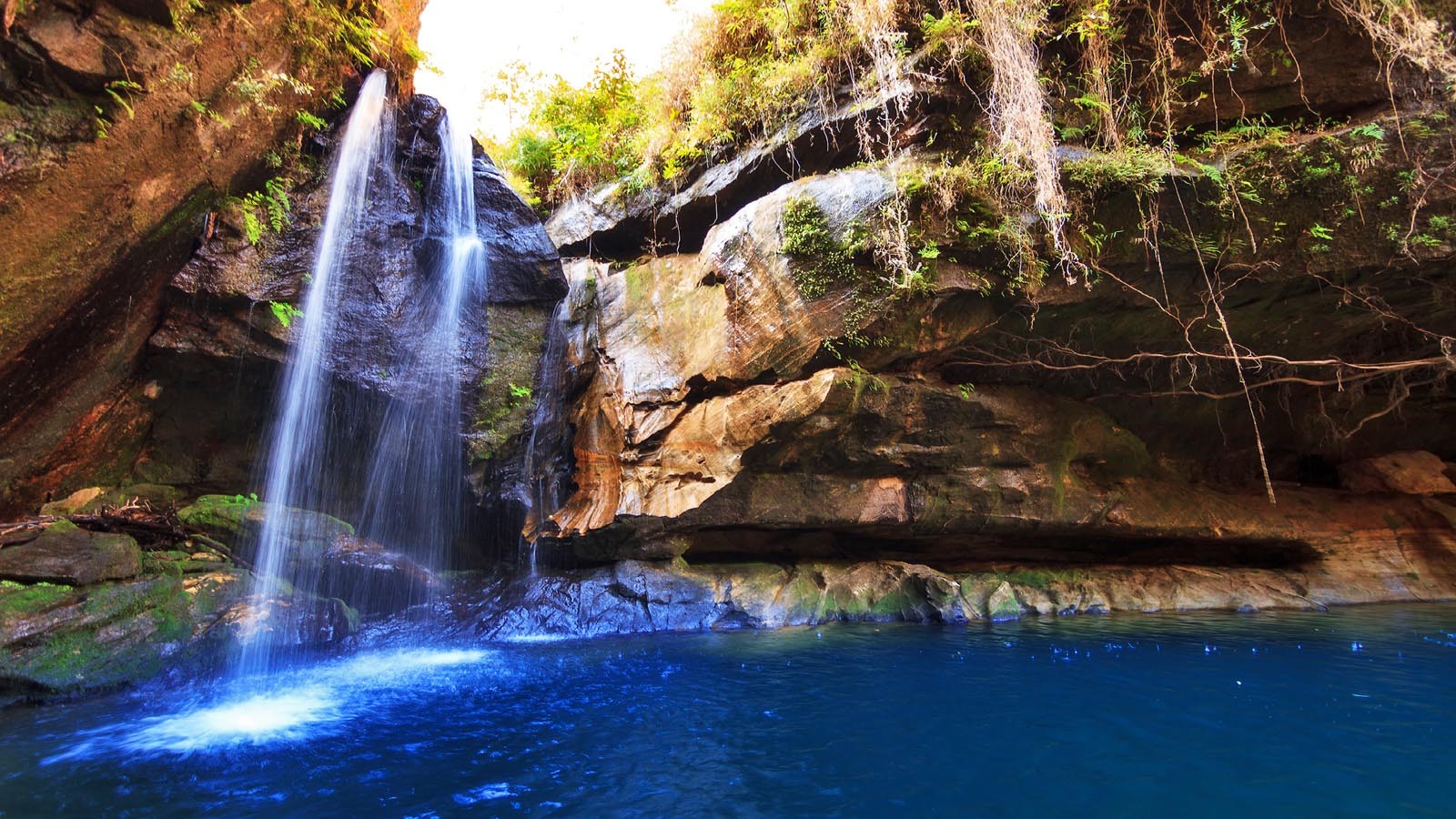 After breakfast, a day dedicated to trekking and discovery of the parc, composed of massif in form of ruin dating from jurassic, discovery of the most beautiful landscape of Madagascar. Hike and visit accross : the canyon of makis, the natural pool, where you can go for a dip, etc… picnic lunch in the park. At the end of the afternoon, back to the hotel for preparing the visit the famous Window of Isalo to appreciate the breathtaking and spectacular scene of the color of the sun (Sunset). Then drive back to the hotel.
LOCATION : ISALO
ACCOMMODATION : ROCK LODGE
OPTION : BREAKFAST AND DINNER
DAY5 – ISALO TO FIANARANATSOA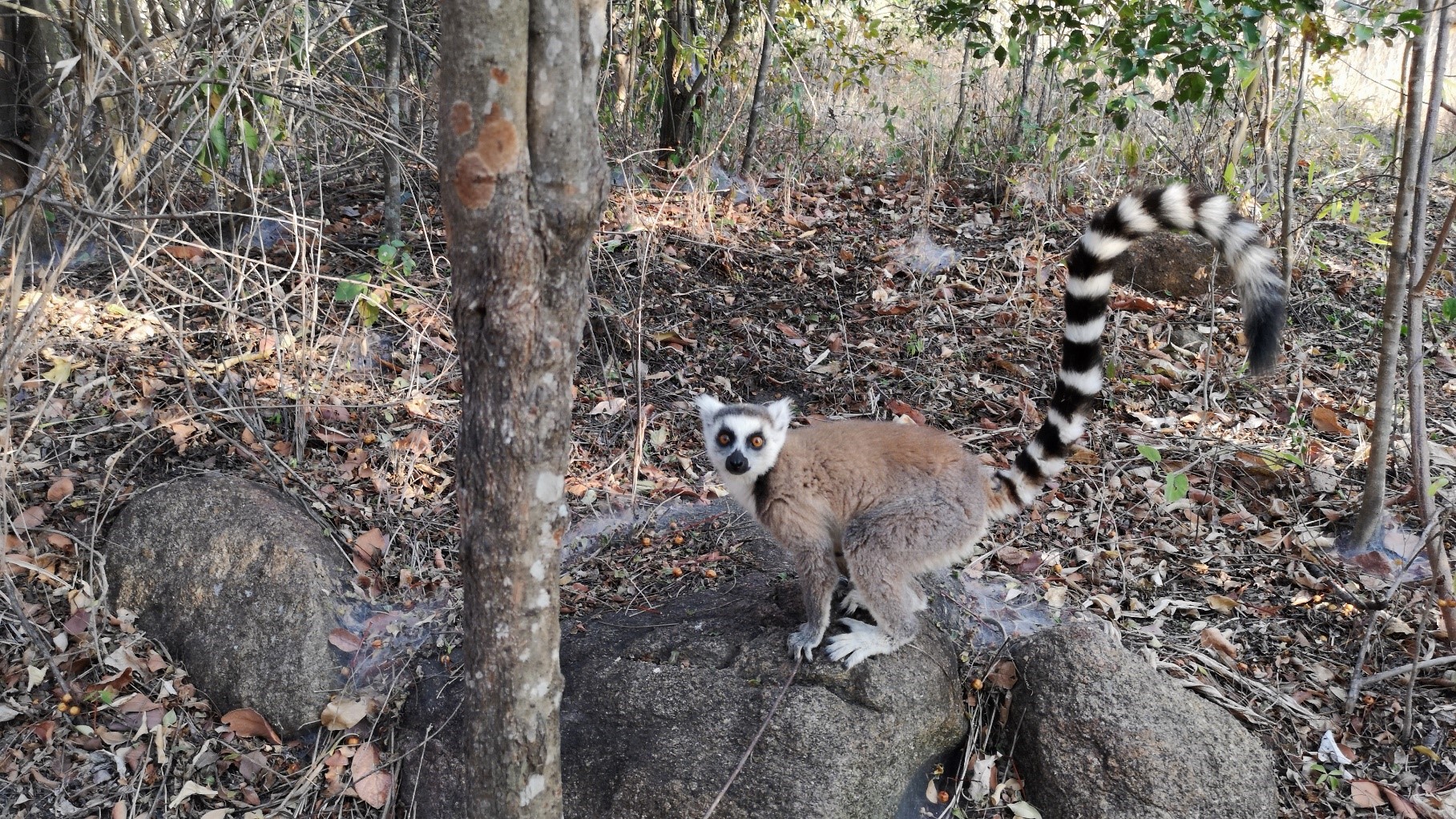 After breakfast, on rout to reach Fianarantsoa with some stops to enjoy the landscape, for photos and for some little breaks if it is necessary. 13 km before arriving to Ambalavao, one special stop at the Anja Reserve for maximum 2 hours visit. The space is enriched with an ecological wealth of flora and fauna species, most notable for its dense population of semi-tame ring-tailed lemurs. Then, continue to the north by passing through the city of Ambalavao for lunch, with a small visit of product factory where you have the opportunity to learn the history of the famous Antemoro paper and the Silk. A little sightseeing in the capital of Betsileo "Fianarantsoa".
LOCATION : FIANARANTSOA
ACCOMMODATION : ZOMATEL
OPTION : BREAKFAST AND DINNER
DRIVE : ABOUT 6H
DAY6 – FIANARANTSOA TO RANOMAFANA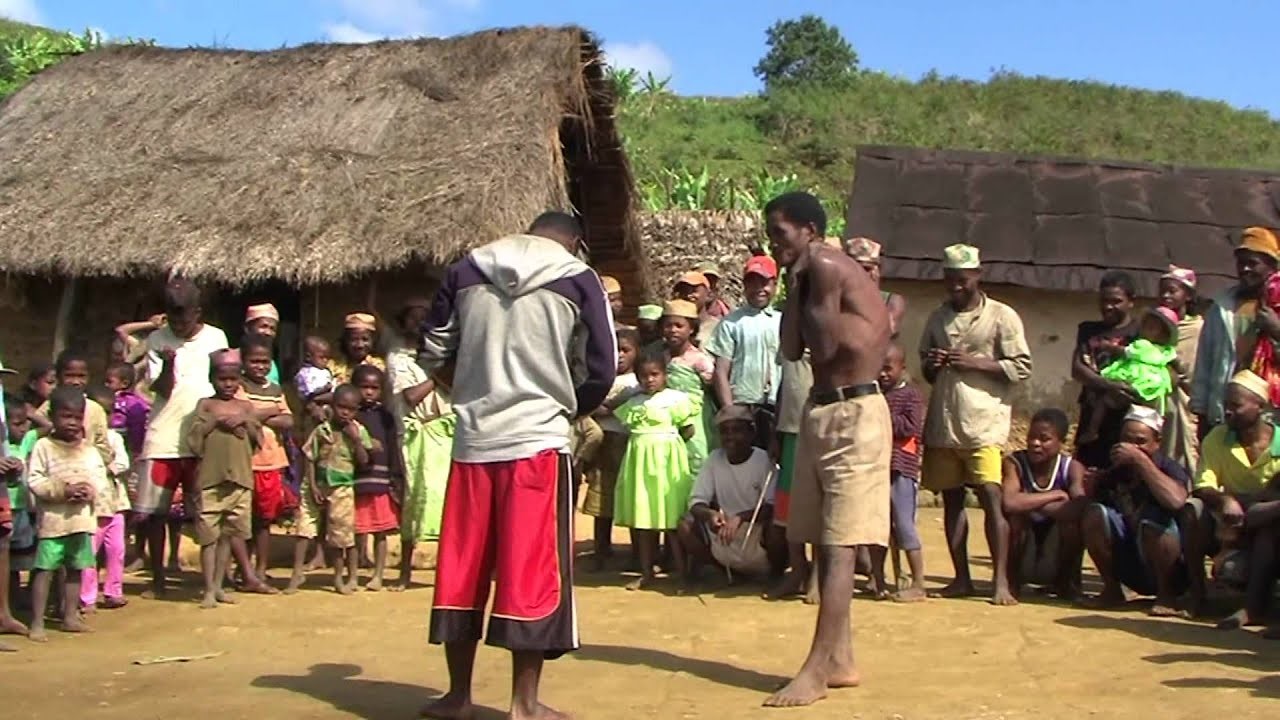 Today aftre breafast, we leave the hotel around 8am to start our visit in the highest part of Fianarantsoa. Fianarantsoa is a city remarkable for the quality of its traditional constructions. Many old houses were built according to the original rules of Creole architecture. The bourgeois houses are vast, airy, with verandas. And one cannot help associating the colonial past of the city with all these magnificent achievements. You should know that until 1868, the construction of permanent houses was prohibited. The architecture was then influenced by Westerners and Anglo-Saxon missionaries who evangelized the country. The cathedral of Ambozontani draws attention as it dominates the landscape. It is therefore quite naturally that we left, this day of gray weather towards the heights. After the visit, we leave directly Fianarantsoa to reach Ranomafana. On arrival, check-in at the hotel, then we start our first visit at the orchid arboretum located near the village. Here  we  find  many  orchid  species,  but  also  reptiles  such  as  chameleons  and geckos. Then we continue our visit in the village of the  Tanala  ethnic  group,  the  forest  people  of southeastern  Madagascar.
LOCATION : RANOMAFANA
ACCOMMODATION : THERMAL
OPTION : BREAKFAST AND DINNER
DRIVE : ABOUT 2H
DAY7 – RANOMAFANA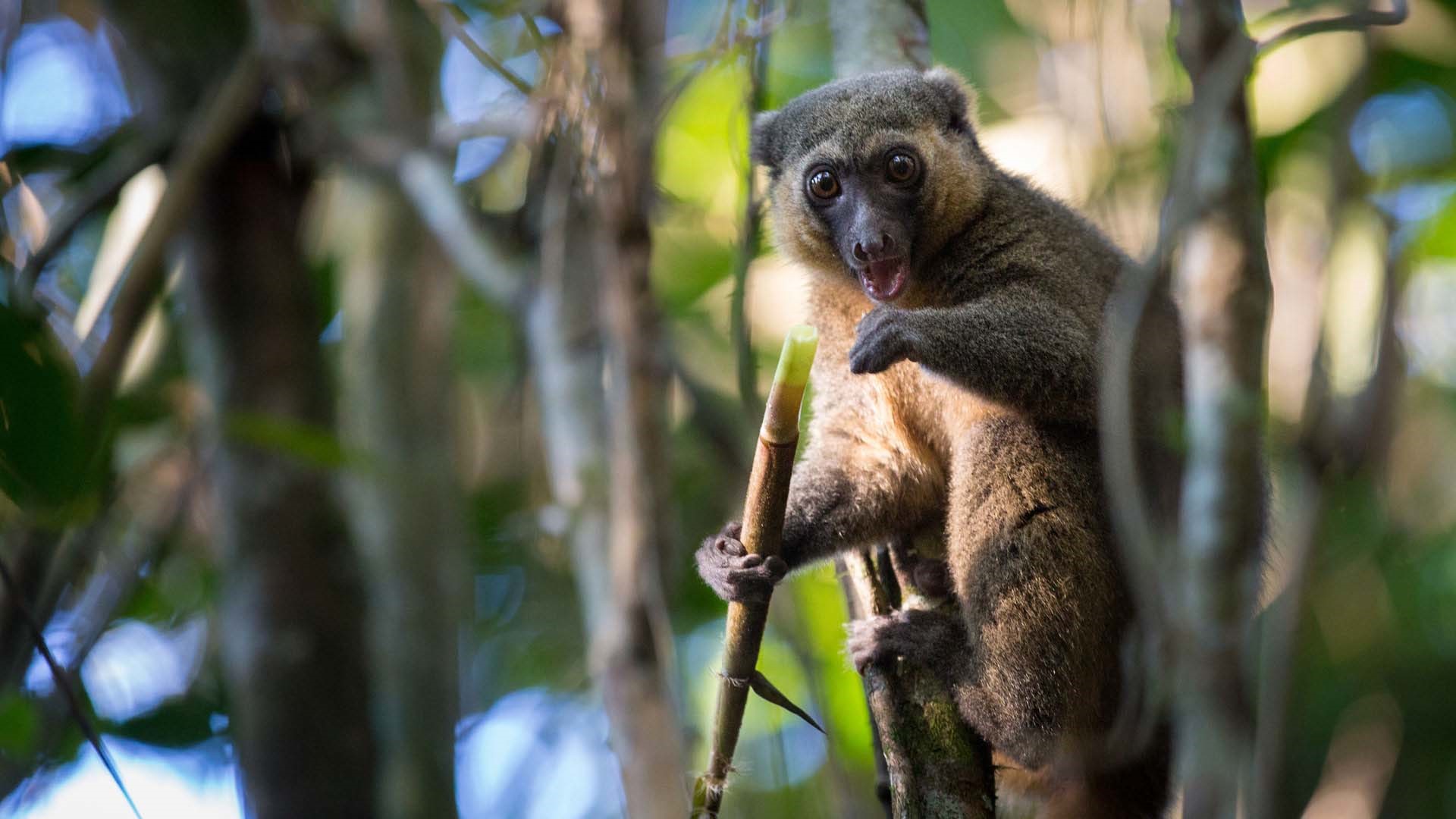 Today, your journey is in the village of Ifanadiana, well known for the Ranomafana National Park. So aftre breakfast, you will be transfered directly to Ifanandiana. A morning visit at the heart of the wet forest of Ranomafana National Park, a reserved area typical and belonging to the remaining forest corridor longing the East part of the great island. Discovery of the wealth of the endemic biodiversity of the region, such as the rare species and gravely threatened lemurs, many species of rare plants and endemic used by the local population for traditional medecine… Trekking in the forest by following a track longing the forest passing through beautiful waterfall, meeting the rare species on the way. After the visit, you will be instaled at your hotel and have lunch. Toward in the afternoon, around 18:00, beginning of the night walk (the visit will take one hour and half).
LOCATION : RANOMAFANA
ACCOMMODATION : THERMAL
OPTION : BREAKFAST AND DINNER
DRIVE : ABOUT 2H
DAY8 – RANOMAFANA TO ANTSIRABE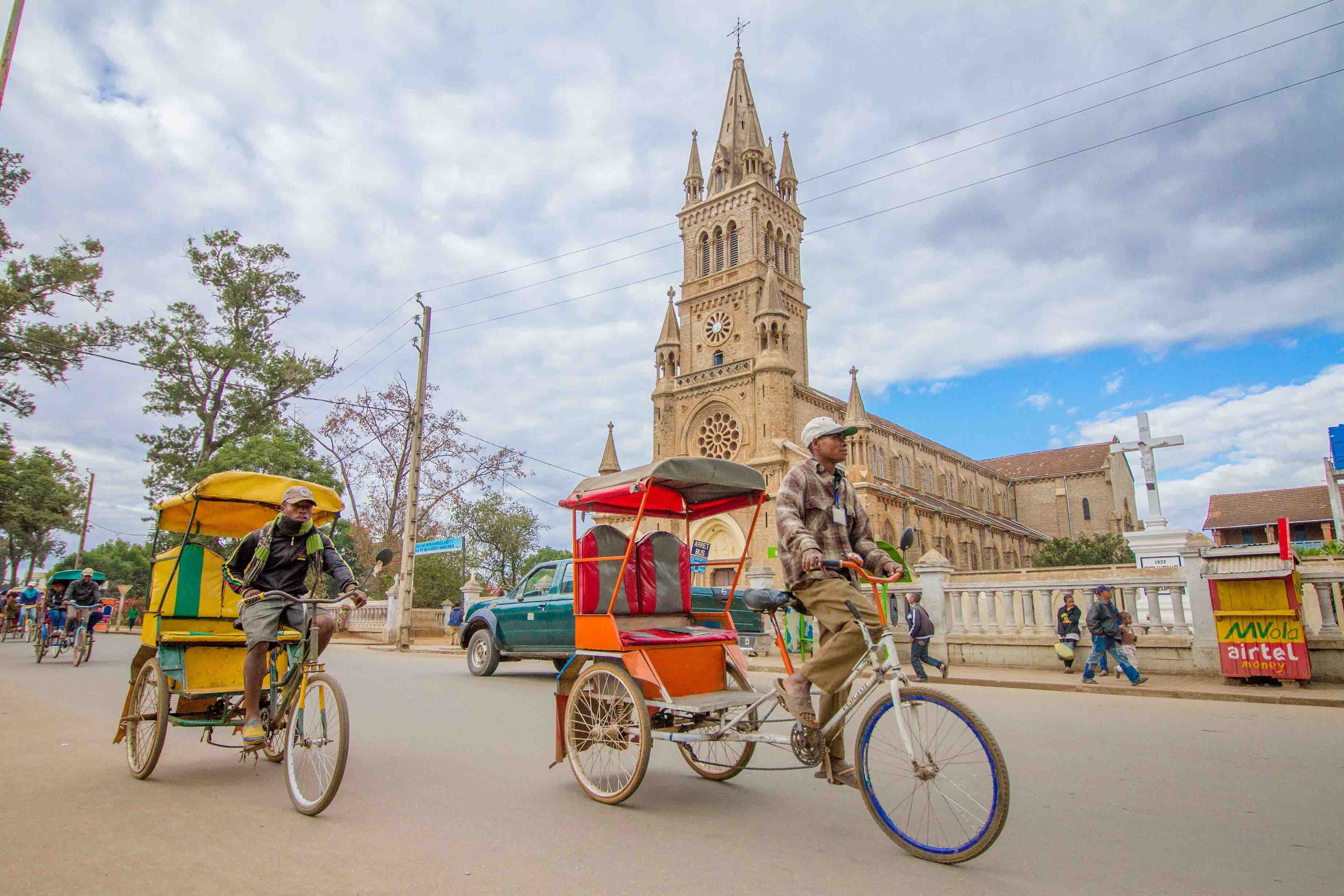 After breakfast, direction towards the North with enjoying the beautiful Betsileo landscape composed of terraced ricefields. Main stop at Ambositra for lunch, followed by a small tour of the city to discover the typical Malagasy craft of the region : the marquetry, weaving, and especially wood carving. Then, continue to the city in the highlands of Madagascar, capital of the Vakinankaratra region, in the center of the island. It is the third largest city of Madagascar. Arrive in Antsirabe at the end of the afternoon.
LOCATION : ANTSIRABE
ACCOMMODATION : COULEUR CAFE
OPTION : BREAKFAST AND DINNER
DRIVE : ABOUT 6H
DAY9- ANTSIRABE TO ANTANANARIVO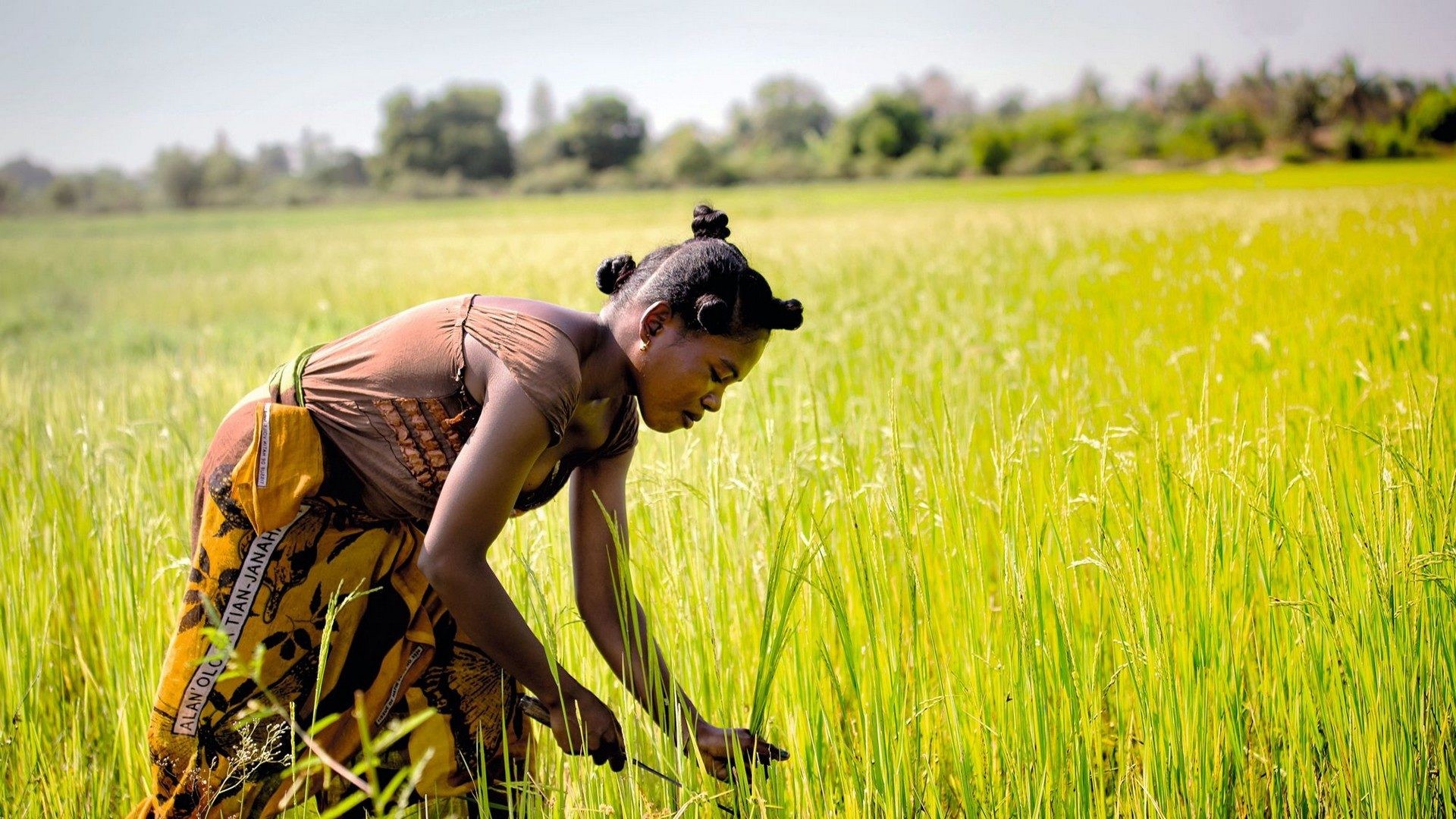 Early in the morning, after breakfast, city tour in Antsirabe by rickshaw (Visit: Avenue of independence, the famous Hotel des thermes, market of stones and the little Factory of Horn). And then, drive directly to Andasibe. You will pass through the beautiful landscapes of the Merina people, witnessing along the way the everyday life of these people, who were (and really still are) the ruling class in Madagascar. Stop briefly at Ambatolampy and visit the manufacturers of pots and decorative items from aluminium. This is a really important local industry and the artisan forgers now make, as well as the pots and pans used every day by all Malagasy, beautiful polished trinkets made from aluminum. Then we continue up to Antananarivo.
LOCATION : ANTANANARIVO
ACCOMMODATION : MAISON GALLIENI
OPTION : BREAKFAST AND DINNER
DRIVE : ABOUT 4H
DAY10- ANTANANARIVO TO ANDASIBE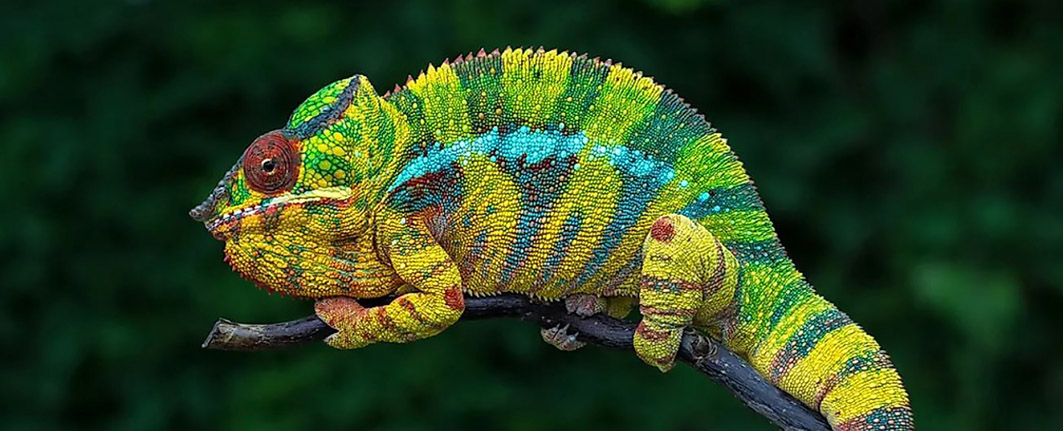 After Breakfast, we take directly a scenic drive to Marozevo where we visit the famous exotic animal breeding centre owned by naturalist Andre Pereyras, where we see almost all the chameleon species of Madagascar – as well as butterflies, leaf tailed geckos, lemurs and other interesting animals. After 7 hours of trip, arrival in the village of Andasibe, transfer directly to the hotel.
LOCATION : ANDASIBE
ACCOMMODATION : MANTADIA LODGE
OPTION : BREAKFAST AND DINNER
DRIVE : ABOUT 5H
DAY11- ANDASIBE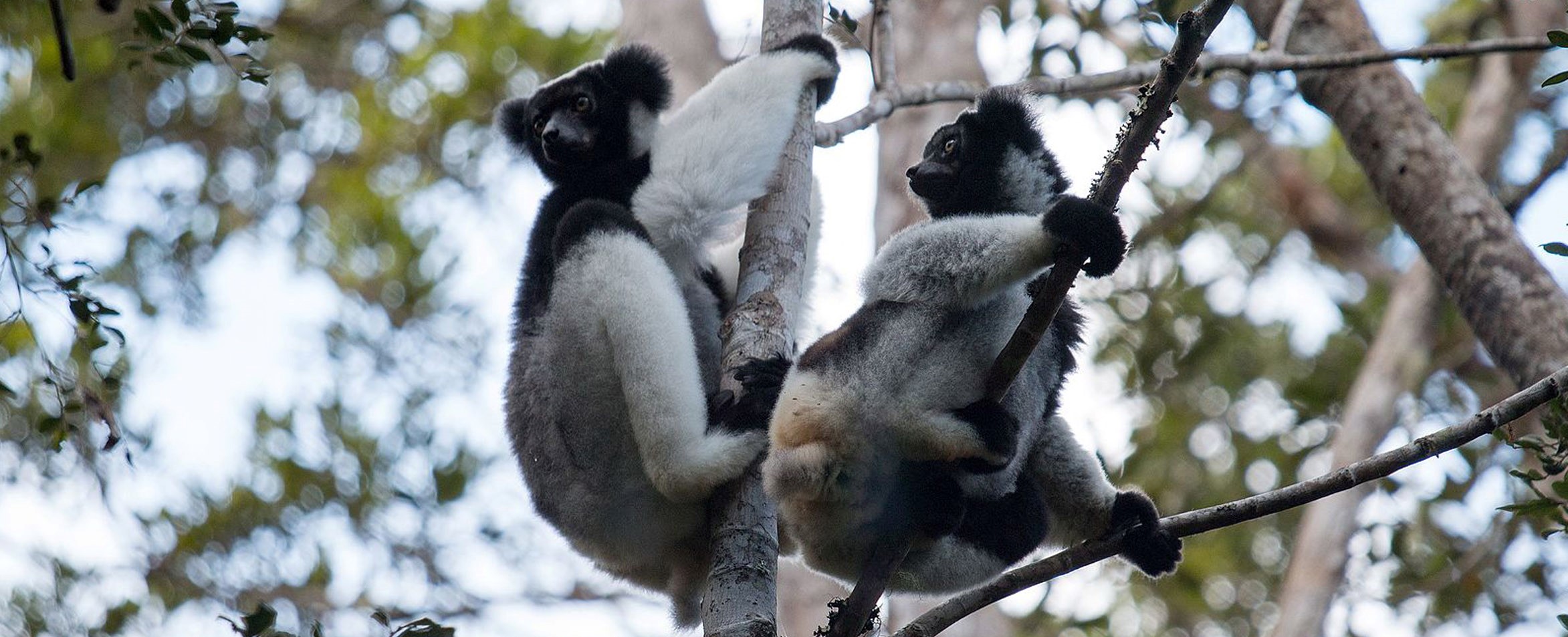 After breakfast, Guided day visit to Analamazaotra National Park. This morning you need an early start to catch the Indri-Indri and the Diademed Sifaka in their forest home. The visit takes about 4 hours. Within a mile of the park you can hear the peculiar call of the indri very early in the morning until noon and again in the late afternoon. Indris (called Babakoto in Malagasy) are the largest living lemurs at all reaching up to 1 meter. Andasibe is the best place to observe the Indris given that there are a couple of families habituated to humans. It lives in small groups and cannot survive in captivity. There are several legends trying to explain its origins since it is considered a sacred animal in the whole Madagascar. Apart from the Indri, another 13 lemur species inhabit these forests, such as woody lemur, grey bamboo lemur, diademed sifaka, brown lemur, red mouse-lemur, red-bellied lemur, black and white ruffed lemur. After the visit, we will drive back to the hotel for lunch and we continue to enjoy an amazing up close and personal experience with lemurs on the private Lemurs Island and then on to view many other species in the Vakona Reserve Zoo, where you will see many crocodiles in the huge river enclosure, native birds, and other wildlife in well kept surroundings. Then around 6:30PM, you end this day with a guided night visits that takes about 1 hour and half, and then drive back to the hotel.
LOCATION : ANDASIBE
ACCOMMODATION : MANTADIA LODGE
OPTION : BREAKFAST AND DINNER
DAY12 – ANDASIBE TO ANTANANARIVO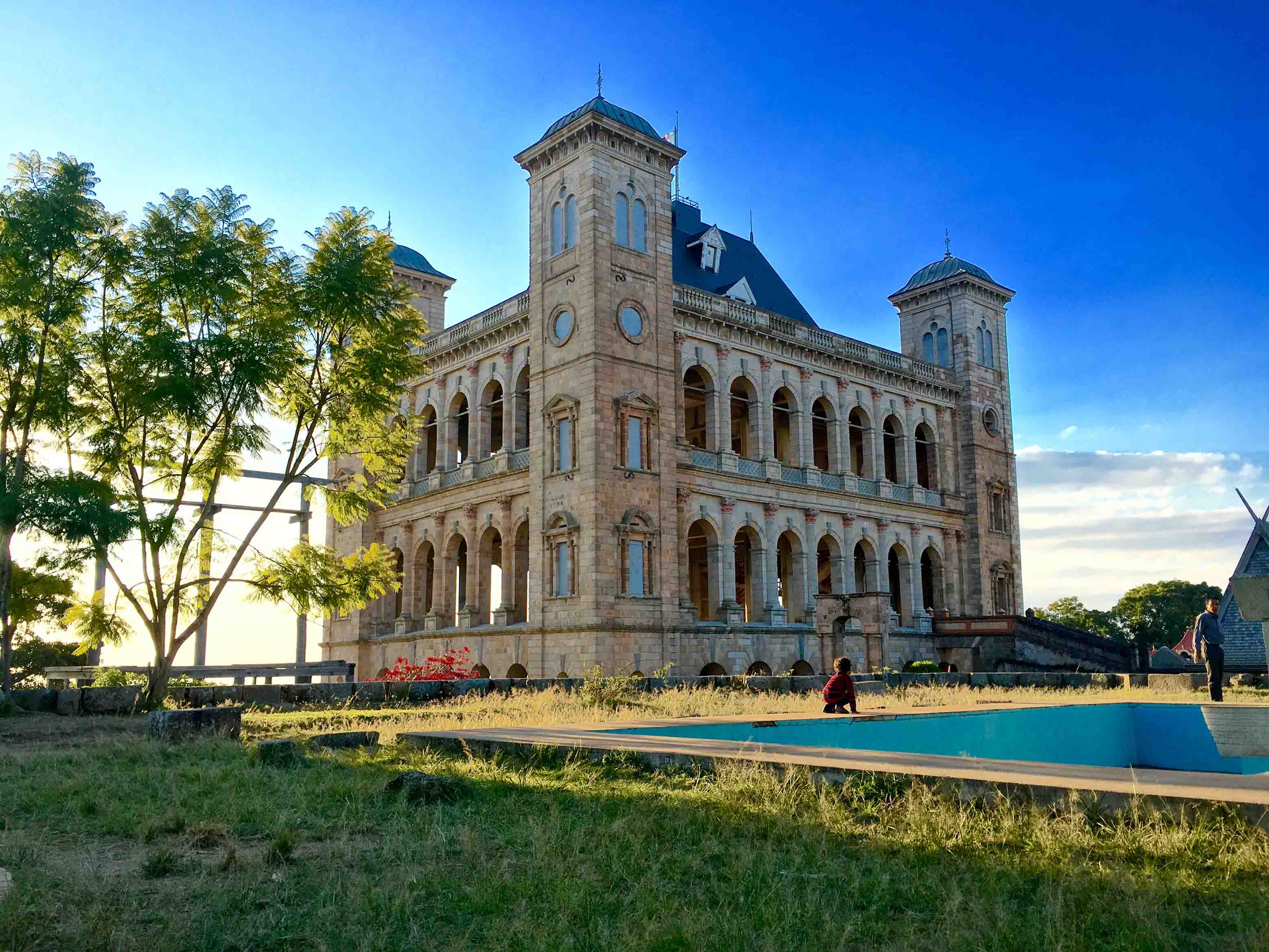 After breakfast, Back to the capital "Antananarivo". On arrival, check-in at the hotel, then we continue by discovering the City of Antananarivo we start with the Queen's Palace which is a symbol of the Merina Kingdom, the dynasty that  made Madagascar a modern state. This is a place of  pilgrimage  and  the  burial  ground  for  its  sovereigns  since 1817.  Sitting  atop  the  highest  hill  in  Antananarivo,  it  offers  spectacular  views  of  the  surroundings. We continue to the Musée Andafiavaratra (Prime minister's residence) then to the Musée de la Photo. We then drive down to Independence Avenue and Anosy Lake.
LOCATION : ANTANANARIVO
ACCOMMODATION : MAISON GALLIENI
OPTION : BREAKFAST AND DINNER
DRIVE : ABOUT 5H
DAY13 – ANTANANARIVO (DEPARTURE)
This last day, we drive to town for a shopping and purchases some souvenirs at the craft market of La Digue/Lissy Gallery before transfering you to the airport for your external flight.
END OF OUR SERVICE
INCLUSIONS
EXCLUSIONS
NOTES
HIGHLIGHTS
TRIP INFORMATONS
SAFETY COVID19
Tourists Taxe
All accommodations mentioned above
All domestic flight tickets (TNR – TLE)
Transfer from the airport to the hotel and from the hotel to the airport
Driver/Guide (with English speaking)
Visits and excursions (following the itinerary)
Guides + entrance fees included for all national parks/reserves
Administrative management package
Bottles of water
Breakfasts and dinners
Picnic Lunch in Isalo national park
1 Local SIM Cards With Internet (You could have internet Where available)
International tickets flight
Lunches
Travel Insurance
Drinks
Gratuities
Tips
Your guide will manage all programs' timing
During the trip, the following dietary requirement(s) are served: Regular (typically includes meat, fish, milk, sea food, …). If you have special dietary requirements it's a good idea to communicate it to us
Please note that the feasibility of the tour will depend on the availability of the proposed accommodations
We do not take responsibility for any airline schedule changes that may occur after quoting or booking. We will do everything we can to alleviate any disruption of your itinerary or holiday but cannot be held responsible for any loss of funds, bookings, missed connections or other prebooked/paid services.
This tour will take you from Antananarivo to Tulear, Isalo, Ranomafana, Antsirabe and Andasibe
Andasibe National Park is a part of Toamasina. It is 1.5 kilometers from Andasibe, 140 kilometers from Antananarivo, and 200 kilometers from Tamatave. The surface of the area is 16,310 hectares (Analamazaotra Special Reserve is 810 hectares while Mantandia National Park is 15,500 hectares). The climate is very humid, the average annual temperature is 18 degrees Celsius, and the average annual rainfall is 1,700 millimeters spread over 210 hectares. The park consists of 80% primary forests and 13% secondary forests, subject to the impact of human activity. The special reserve is dedicated to the protection of the largest Malagasy lemur, the indri. An orchid park is also open to the public. There are three campsites and a hotel in the park. When you travel in Madagascar and if you are fans of nature, do not miss to visit this park.
Isalo is located in the south of Madagascar in Ranohira. The park extends over an area of 81,54 hectares. Isalo is home to a population dominated by the Bara ethnic group mixed with communities of various origins who settled there because of the exploitation of sapphire in the surrounding area of Ilakaka. The territory is also a historically rich archaeological site, as it retains the continental plate connecting Madagascar with Africa, two million years ago. A true tourist attraction for its geomorphological singularities, at the same time varied and unique in the world, it is the most visited site on the island. The park is of rock structure that is globally shaped by the erosion of reddish mountainous sandstones dating back to the Jurassic era of 200 million years ago, extending for nearly 100 kilometers in the north-south direction. Its varied sculptural form is a chain of deep canyons, peaks up to 200 meters high, masses of granite and rock blocks of unstable appearance. There are currently 82 species of birds, 33 reptiles, 15 amphibians, and 14 mammals including seven primates. Among these, there are the maki, sifaka, and varika. As far as tourists are concerned, the main attractions are the pedestrian routes which, from the outset, are reminiscent of a decorative façade of the Far West.
The Ranomafana National Park is located in the southeast of Madagascar straddling the regions of Upper Matsiatra and Vatovavy Fitovinany. It is 412 km south-east of Antananarivo, 65 km north-east of Fianarantsoa and 139 km west of the town of Mananjary. Terrestrial National Park classified World Heritage Site with its dense low-lying humid forest (600-800m), its dense humid forest of medium altitude (800-1400m), its bamboo forest, its marshland where plant and animal species such as Pandanus, Varecia variegata variegate, Crayfish, Limnogale Mergulus choose as habitat. 6 species of fish, 74 species of insects, 90 species of butterfly including 4 rare species, 350 species of spiders, 6 endemic species of crustaceans and a subspecies of crayfish of the group of Astacoides. 58 species of reptiles, 98 species of amphibians, 115 of the 257 species of birds of Madagascar the majority of which is endemic. 12 species of lemurs, 7 species of carnivorous mammals and 20 species of insectivores, 07 species of bats including Myzopoda aurita, a monogenous that exists only in Madagascar. There are also 13 species of rodents. The Ranomafana forest is of the rainforest type whose hard core considered as primary forest is distant from the road axis. There are Apocynaceae, Euphorbiaceae and Rubiaceae, Dypsis sp and Phloga sp of the family Palmae, Asplenium nidus, orchids of the genera Bulbophyllum and Eulophiella. Large areas of secondary forest are occupied by Psydium cattleyanum of the family Myrtaceae. Tropical hardwoods such as rosewood or Dalbergia sp, maka or Weinmania sp and varongy or Mespilodaphne tapack are also visible. A profusion of rare plants is also identified: ferns, bamboos and hundreds of orchids. Chinese guava occupies more and more spaces and is dispersed by lemurs and frugivorous birds.
The climate is tropical, but cooler in the highlands (dropping as low as 5°C at night in July/August in Antananarivo and Andasibe). The dry season is March to October continuing into November in most areas. The east coast is best March-May and September-November, January-March is cyclone season. The south west area is hot, dry and semi-arid. March-April is the best time for flowers and reptiles. November (spring) is generally the best time for wildlife and birds, but lemurs can be viewed all year round. Seasonal weather patterns can be unpredictable.
Altutude

Antananarivo : 1300m
Andasibe : 964m
Antsirabe : 1500m
Ranomafana : 876m
Isalo : Varies from 800m to 1200m
Tulear : 8m
HT Agency Tours offers torches for nocturnal wildlife walks, a water bottle. Please bring camera film (and spare batteries), binoculars and a beach towel and swimwear. Rain proof pants are very handy for walks in the rainforest. Walking poles maybe useful in Ranomafana NP and Andasibe NP. Lightweight walking bootshoes and trainers is recommended. Clothing should be lightweight, but a warm sweater or jacket is advisable as nights at altitude and under desert conditions can be very cold, even in summer and especially in July to September. Rainwear is highly recommended on all tours for the occasional shower. Warmer layers will be required during the winter months
Madagascar: An entry visa is required by USA citizens and can be obtained on arrival. The visa is chargeable at 40USD and issued for 30 days. The visa fee is payable in USD or Euro and we advise to take small denominations and a little extra as the USD amount is calculated daily by the applicable rate of exchange. Other nationalities should consult the relevant consulate. For a single-entry tourist visa, you can apply via the e-visa website: https://evisamada.gov.mg/en/
You will need to print a copy of your evisa approval letter and present this with your passport at immigration upon your arrival. The approval letter will take a minimum of 3 days to be processed so we strongly advise for you to apply within plenty of time (maximum of 6 months prior to your arrival) before your departure. You will be permitted to stay within Madagascar for a maximum of up to 90 days and we strongly recommend for you to read the FAQ section on the e-visa website before applying.
It is a condition of booking with HT Agency Tours that you have adequate valid travel insurance. It is your responsibility to arrange appropriate travel insurance and ensure you have read and understood the full terms and conditions of your travel insurance policy to ensure that you are covered for all activities you intend to undertake whilst on the tour, including all optional activities. Your Insurance Policy must fully cover you for medical expenses and emergency repatriation to your home country. Please ensure your policy includes medical emergency helicopter evacuation in the event of illness or injury and covers the entire duration of your holiday. If you are trekking at altitude, please ensure that there is no upper altitude limit which may limit or exclude cover for your trip.
Nothing compulsory, but we recommend protection against malaria, tetanus, typhoid, hepatitis A plus, Polio and diptheria. Please note that all travellers aged over 9 months old that have travelled from or have transit via a country with a risk of yellow fever transmission, will need to present a Yellow Fever certificate at immigration/borders in Madagascar for inspection. Consult your travel clinic for latest advice on different prophylaxis available against malaria. Following the advice given by the Government's Foreign and Commonwealth Office, we strongly recommend the wearing long sleeved shirts and the liberal application of insect repellent as a precautionary measure to avoid being bitten by mosquitoes. These precautions should be taken at all times as the mosquitoes are also active during daylight hours. Please check the latest requirements with your travel clinic or doctor prior to departure.
The costs of meals may vary according to the location, type of restaurant and number of courses eaten and so the prices given below are just an average guide. Local restaurants located off the beaten track may be less expensive, whereas an upmarket restaurant located in the center of a major city may charge more:
Lunch price: 10 USD
Dinner price: 17 USD
Beer price: 2 USD
Watter price: 1 USD
Given the fluid nature of local COVID-19 protocols, our itineraries are regularly reviewed and will be modified based on local requirements to ensure a safe experience. If a major change is necessary, we will let you know before departure.
Our guide will use their judgment during the trip to modify the itinerary if physical distancing cannot be achieved
Our guide will receive in-depth training on COVID-19 protocols and how to conduct our journeys in the "new normal".
Our guide will brief you upon arrival on the use of face masks and physical distancing during the trip, based on local government guidelines.
Only restaurants with strict protocols that comply with local food hygiene and physical distancing requirements will be used. We will encourage outdoor dining areas where possible.
All of our staff and third party suppliers will be continually informed of new health and safety protocols.
Our drivers will follow local protocols on the use of face masks and physical distancing required.
Our drivers will provide alcohol-based hand sanitizer and tissues in the vehicle and encourage customers to wash their hands when getting into the vehicle.
All vehicles will be disinfected (seats, door handles, etc.) regularly throughout the day.
We will only offer hotels that have specific COVID-19 protocols in place and comply with local government guidelines.
We will ensure that these measures include; improved room cleaning, ventilation, physical distancing, regular cleaning and disinfection of high frequency touch points in public areas, food safety, staff retraining and minimization of contact within properties
All of our leaders are trained to help any guest who becomes ill while traveling.
We also have an "action plan" in case of suspected COVID-19 cases within the group and are ready to seek medical support at any time.
Our guides are supported by our 24/7 based operations team and local partners across the country
We recommend you to bring your own face masks (at least 2 reusable) and an alcohol-based hand sanitizer.
We recommend you to check with the airline for their individual COVID-19 requirements prior to departure.
We recommend you to check your own government travel advice and meet entry requirements including, but not limited to, COVID-19 testing, pre-arrival health questionnaires, and tracking and traceability in the country, etc